Set Up MFA For Student Center

On April 3, Western will be implementing multi-factor authentication on Student Center. Most of our students will already have this setup to access their Western email account. If you haven't yet setup your MFA account using DUO, we recommend you do so before April 3.
How to Set Up MFA
1. Go to MyMFA.uwo.ca and log in using your User ID and Password.
2. Click Start Setup.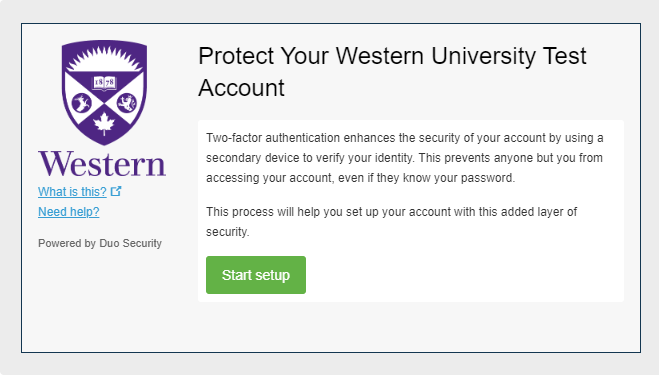 3. Select the type of device you're enrolling. You can register an additional device once the initial enrollment has been completed. You are required to have access to your smartphone or tablet during enrollment.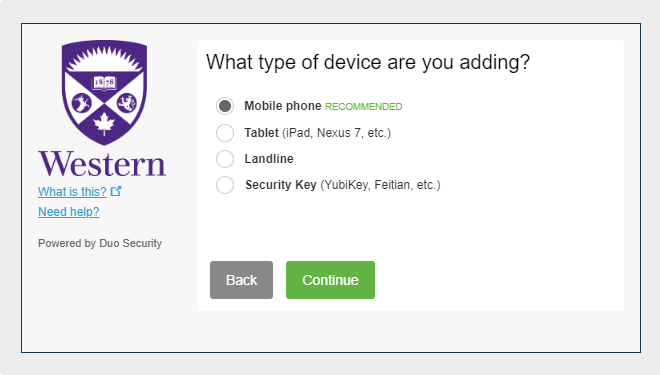 Continue to the next steps by selecting one of the following:
4. Once your devices have been enrolled, test your setup using the Test MFA button provided within the MyMFA.uwo.ca application.
FAQs
Multi-Factor Authentication (MFA) is an authentication method in which a user is granted access only after successfully presenting two or more pieces of evidence to prove their identity. Duo Security is being used to secure MFA-enabled services at Western University.
All current students at Western, including undergraduate, graduate, and professional students, will need to use Duo Multi-Factor Authentication when logging into their Student Center. This includes Ivey and Schulich students
If you have already set up MFA to access your UWO email and other Office 365 applications, there is no further action required. If you haven't set up Duo multi-factor authentication yet, you will need to follow the steps on this website to set up your Duo MFA.
Multi‐factor authentication adds a second layer of security, keeping your account secure even if your password is compromised.
This happens when you do not meet the priority or restriction placed on the course. You may not get special permission to avoid these situations.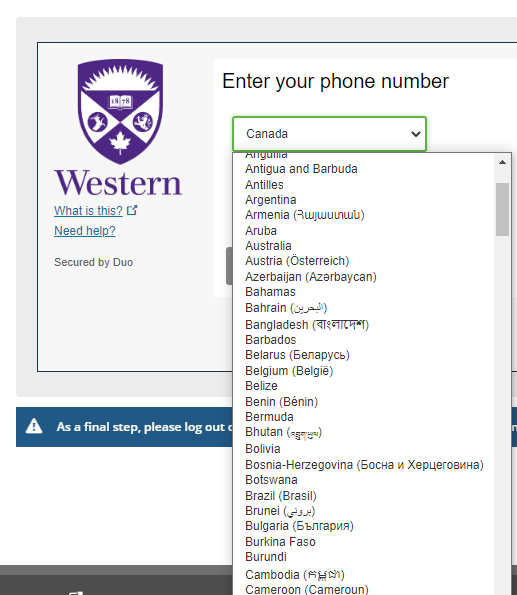 This message indicates that you have not enrolled any devices for MFA. To enroll a device and resolve this error, follow Steps 1 & 2 on WTS' Setup MFA page.
If you have enrolled a second authentication device, you can log into MyMFA to delete your lost or stolen phone. If you are not able to log into MyMFA, please contact the WTS Helpdesk for assistance with logging in using another method, and then deleting the missing phone.
Yes, you will need to use multi-factor authentication each time you login to your Student Center.