Summer Tuition and OSAP
Undergraduate Students
If you have registered for summer courses, you can view your Online Statement of Account via Student Center beginning mid-April 2021.
Tuition due date: May 17, 2021.
Additional Courses/Registration Changes
When students add their first course, the tuition due date is set. If additional courses are added after the due date listed on the online statement of account, the payment of these added course(s) is due no later than 10 days from the date of adding the course(s) in order to avoid the late payment penalty.
Non-payment of tuition fees does not cancel registration in courses. Students who do not withdraw from their courses properly will be responsible for payment of the course(s). Withdrawing from courses after the withdrawal deadline will cause students to be assessed cancellation and additional fees based on the date of withdrawal. Students are responsible for paying this balance upon withdrawal.
Graduate Students
Tuition due date for first instalment: May 7, 2021.
Tuition due date for second instalment: June 11, 2021.
For more information:
Summer OSAP information
The Western Undergraduate Summer 2021 Supplemental OSAP Application will be available February 26. 
Registering for courses for the Summer 2021 term and applying for OSAP? Please review the following information on how to apply:
Full-time Graduate Students: All Graduate students must apply directly through the OSAP website for the summer term as there is no paper supplemental option available. Please note, if you have already received an OSAP assessment that includes the summer term (until end of August 2021), this option is not applicable.
UNDERGRADUATE STUDENTS: To be eligible for Full-time OSAP for the summer term, students must be enrolled in a minimum 60% course load, or in a minimum 40% course load for students who self-identify as having a permanent disability. If you have a current Fall/Winter 2020-2021 OSAP Application, the summer term is an extension of this application and only requires the completion of a Summer Supplemental Form, noted below.
Please note, April 1, 2021 is the deadline to submit the Summer Supplemental Form if wishing an automatic tuition deferral.
If you do not have a current Fall/Winter 2020-2021 OSAP application, and you are registered in a minimum 12-week study period for the summer term, an online 2020-2021 OSAP application is necessary in addition to the Summer Supplemental form.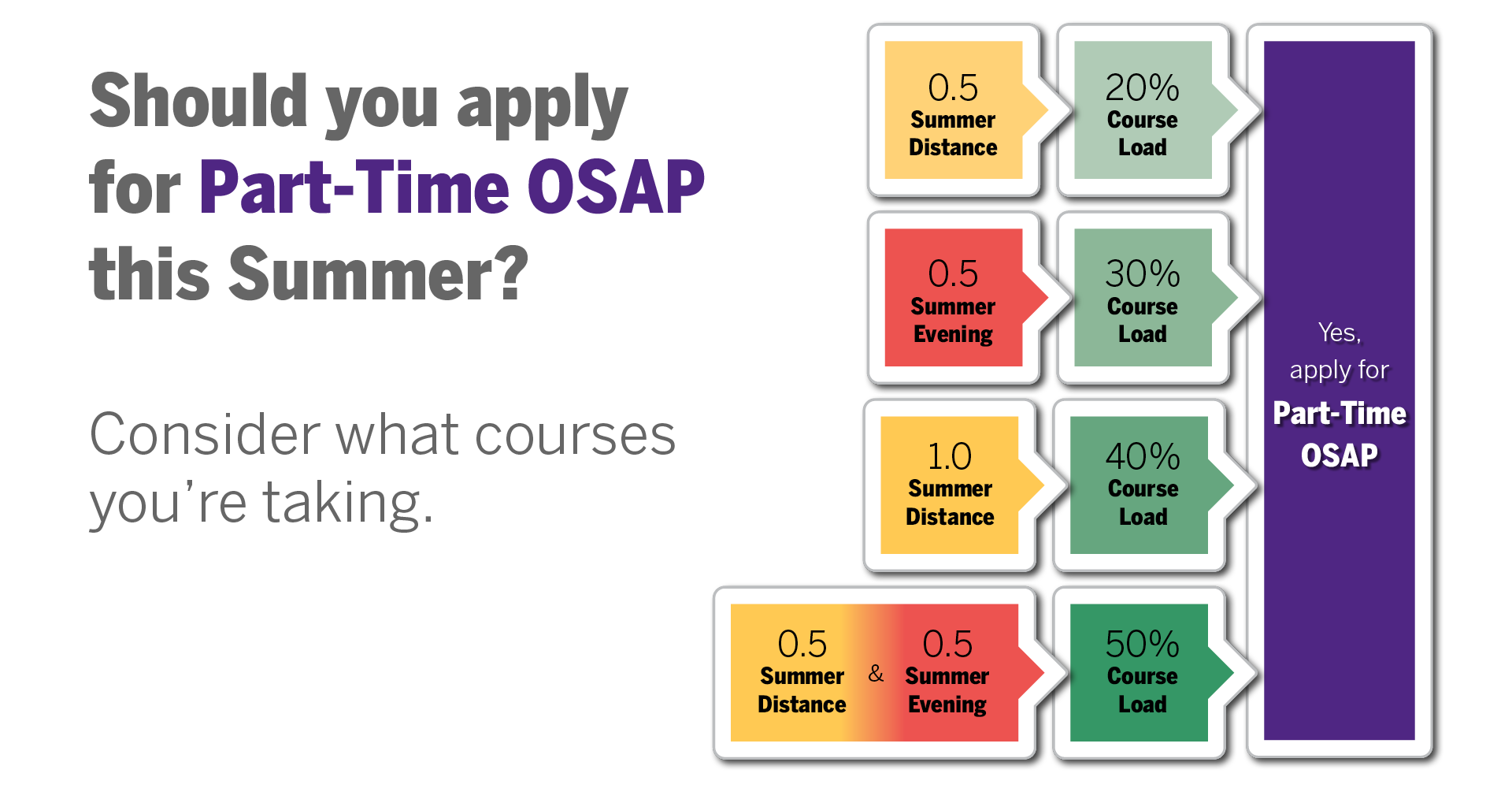 Please review all details on the back of this form as it outlines the courses eligible for Full-time OSAP as opposed to Part-time OSAP. This form may not be applicable depending on your summer enrollment. If it is determined that your courses are Part-time OSAP eligible, please apply directly online through the Part-time OSAP application.